Z SCALE LIGHTING PRODUCTS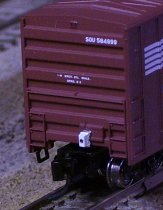 Our introduction to Z scale Lighting Products is the Z-FRED. The photo is of a Z MTL® FMC 50ft. box with one of our Z-FREDS mounted above the coupler on the back of the car. The ruby red LED is an intense light and can be seen in full room lighting from many feet away. This application has no batteries and will work in DCC or DC modes. When power is cut, the Z-FRED will flash about 4 cycles before shutting off. The wheels are retro-fitted with Fox Valley® Wheels for power pick-up and great looks. The case is offered in four colors; silver, yellow, orange and white as shown. As a service to our Zed and Z Scale customers, Details N Scale will install the Z-FREDS and electronics for a fee. This FMC box car application would be $50.00 with the car not included. Price includes Z-FRED, wheels, electronics. and labor to install in your car. E-mail us for a quote for other apps. Below is the Product List for those modelers who want to purchase the Z-FRED only. Last but not least, we will have a video coming soon to show the effect.

Our new product for 2015 is the roof top yellow beacon.
| | | | |
| --- | --- | --- | --- |
| Item | Description | Price | Cart |
| DZD BEACON AN | Z Amber Beacon with LED | $9.95 | |
| DZD EOT Y | Z-FRED w/ red led, yellow case | $14.95 | |
| DZD EOT S | Z-FRED w/ red led, silver case case | $14.95 | |
| DZD EOT O | Z FRED w/ red led, orange case | $14.95 | |
| DZD EOT W | Z-FRED w/ red led, white case | $14.95 | |
© Details N Scale 2015