LIGHTING SERVICES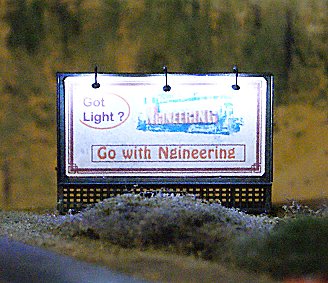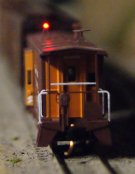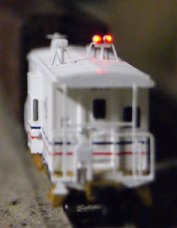 For our N scale modelers, we provide LED lighting services for many applications. Shown to the right are Athearn® Bay Window caboose lighting for SP "Frog Eye" markers in dual and single LED applications. These apps are track powered and will not flicker on power interruptions. The red LEDS are very intense and look much better than these photos show. The replacement "frogs" are very close to scale with a very small telltale "conduit" running into the body of the shell. These red nano LEDs are mounted inside thin wall tubes which direct illumination fore and aft. Wheels are upgraded to FVM or IM metal wheels for track pick up. Dual lit frog Service runs about $60.00 plus return postage (Top right photo). Single frog eye Service is $55.00 plus postage. (Right photo) These two photos show Athearn® apps but we have completed many dual and single red LEDs on Atlas® and Micro-Trains® cabooses. Free return shipping for orders over $150.00. US and Canada.
The fourth photo to the right shows an Amtrak end car with markers illuminated. The application is identical to the dual lit frogs and is priced at $60.00.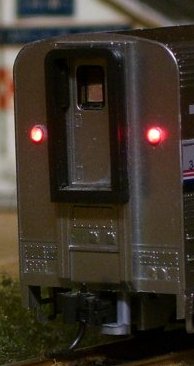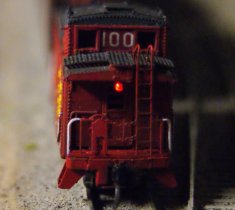 Lighting was applied to this detailed caboose at both porches with the red nanos installed in tubing. A capacitor was added for flicker free lighting.
© Details N Scale 2016
The fifth photo shows a Blair Line® Lattice Billboard
illuminated with three scale lights which are Ngineering®
tubing, lenses, and Nano Super White LEDs. The tubing
has the scale diameter of about 2 3/4 inches in N scale!
Our billboard LEDs will be available soon. Sold in individual
and three packs, these LEDs will illuminate your highway
billboards and will be visible in broad daylight.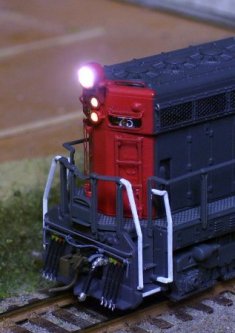 For our SP fans, we have lit and simulated the mechanical Mars Light
in the "Ash Can" lights that were prevalent in the fifties by Southern
Pacific. Sometimes referred to as "Barrel lights" these gems look and
perform like the real prototype with the aid of the Ngineering LED
simulator (part # N8031 Mars Light Simulator) and a Micro Super
Incandescent LED. This simulator chip by Ngineering is designed to
control LEDs exclusively and is superior to any decoders programming
for realistic effects. This is a still shot of SP#5371 SD 9 owned by Mitch
Valder. We installed Mars lighting in four SP road units for his N scale
Northwestern Pacific roster.





Do you have a modeled scene or Loco that needs lighting?
Email us for a quote for your special project.